What Are The Different Types Of Tube Bending?
At Intran, we provide a wide range of tube bending options, from simple, single bends in a single plane to complex bending. Our tube bending machines can meet your particular application needs while keeping your budget in mind. Let's take a look at some of the different types of tube bending and the services Intran provides.
Tube Bending And Straightening
The tube bending process uses mechanical force to bend tubing into specific shapes and radiuses. Tube straightening utilizes a similar process but involves straightening the bends or changing the bends and reducing the curvature. We use CNC equipment for all of our tube machining, which provides the following capabilities:
Semi-automatic turning machines up to 42 mm
Tube bending up to 35 mm
End forming tubes up to 35 mm
Tube and bar straightening up to 15.8 mm
Tube Hydroforming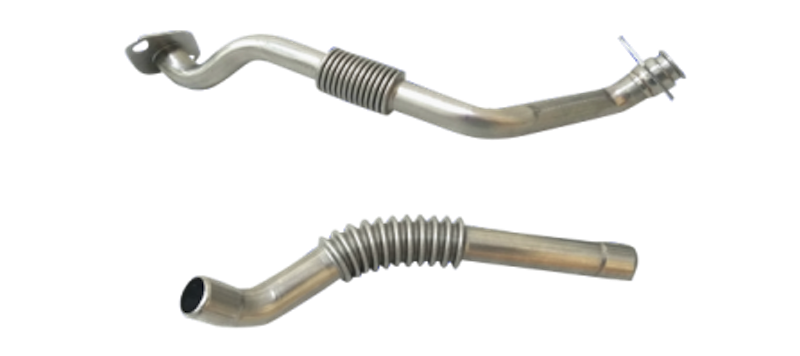 Tube hydroforming differs from tube bending in that it uses high-pressure hydraulic fluid to shape metal instead of using mechanical force. This allows us to create stronger, lighter parts with more complex shapes for clients with a variety of needs in industries like oil, gas, automotive, and aerospace.
We specialize in tube hydroforming with bellows/corrugates using precision tooling and more than 400 KPA of fluid pressure.
End Forming
End-forming is a process of precisely modifying the shape of a tube at its endpoint in order for it to fit a specific connection. At Intran, we provide precision end forming services for tubes utilizing a variety of high-end machinery and an experienced labor force. This allows us to produce a multitude of different end-form styles and meet your individual needs and design standards.
Intran Offers A Variety of Tube Bending Solutions
At Intran, our goal is to provide turnkey solutions for all of your tube bending needs. We offer tube bending of materials ranging from ductile metals to high-strength steel and also provide other services, including stamping and brazing, which can be combined with your order. With over 50 years of experience in the manufacturing business, we offer a variety of capabilities and services.
Contact us if you have additional questions about tube bending or hydroforming.