Controlled Atmosphere Brazing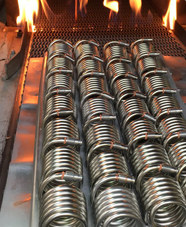 Intran offers controlled atmosphere copper brazing in hydrogen and nitrogen atmospheres, as well as continuous belt furnace brazing (which is cost effective and highly efficient, making it ideal for mass production).
All of our copper brazing processes produce permanent joints that are robust, leak-proof, and capable of withstanding extreme temperatures.
We offer copper brazing for the following parts:
Small parts, starting at 2 inches
Large parts too – Our brazing furnace can hold parts up to 5 feet in length with a height of 6 inches and a width of 12 inches
Parts that require high joint strength
Carbon steel
Cast iron
Stainless steel
Nickel alloys
We have produced brazed components for use in a variety of applications, working with producers in the automotive, agricultural, marine, and powersports industries.